There's has been a lot said about Ben Roethlisberger and his
ability to keep his hands to himself
.
"One of the bodyguards guided the victim down a back hallway. Mr. Roethlisberger followed her down the hallway into a small bathroom. The issue is what happened in that small, less than 5-foot-wide, single-commode bathroom, between Mr. Roethlisberger and the victim. Significant questions about what occurred persist."Mr. (Ocmulgee Judicial Circuit District Attorney Fredric D.) Bright said one of the problems investigators had pursuing the case was the fact that the woman was intoxicated and that her recollection was unclear. He also said her statements to authorities were inconsistent.

When she first approached a police officer outside the nightclub immediately after the incident, Mr. Bright said, "The police officer asked 'Did he rape you?' And her response was 'No.' Then he asked, 'Did you have sex?' And she said, 'Well, I'm not sure.' "

In a later interview, the woman wrote a statement saying "He had sex with me."

The next day, at the Milledgeville Police Department, she wrote, "I told him it wasn't OK. 'No. We don't need to do this.' And I proceeded to get up and try to leave. I went to the first door I saw, which happened to be a bathroom. He followed me into the bathroom and shut the door behind him. I still said, 'No, this is not OK.' And he then had sex with me. He said, 'It was OK.'"
The quoted above is for those non-sports fans to catch up on Ben's second sticky situation regarding women. To give a very brief opinion on the situation itself, since everyone else has. I have two schools of thought on the matter. Ben may have raped her, is the first possibility. The second possibility is that she was REALLY drunk and did things with him that she later regretted, hence the rape allegations. Outside of the 2 people in that bathroom none of us will ever know what took place.
With that out of the way, I must state that I've been a
Steelers
fan since birth. I cut my teeth on the Steelers of the 80's. That's significant because I'm not some punk fan who knows nothing but
Blitzburgh
of the 90's and the 2 Super Bowls in the 2000's.
I grew up on the mediocre Steelers, watching the last few years of the legendary
Chuck Noll
. My quarterback at that time wasn't Big Ben or Terry Bradshaw. I grew up on Mark Malone & Bubby Brister. There was no Swann, Stallworth or Hines Ward. I had
Louis Lipps
, who was a really good receiver on a very average team with poor to mediocre quarterback play. There wasn't a terrorizing defense like in the 70's, 90's and 2000's. Brian Hinkle, David Little & Mike Merriweather were the keystones of the Steelers defense of my youth. They were definitely good and solid professionals, but not the stars the equivalent of the defenses that pre and postdated them.
I just state all of that to say that I've been a fan through thick and thin. The Steelers are probably the
most popular team in the league
. That's mainly thanks to the dominance 70's. During that decade they became if not "America's Team", at the very least "The Team Of America". At that time the Steelers fan base grew beyond just Pittsburghers and those with Pittsburgh roots, but to people who have never stepped foot in the city.
As I got older and the team got better people of my generation definitely appreciated it more. Not only did we appreciate the winning, but we also loved the way that team conducted business on and off of the field. We loved the bruising running game and hard hitting defense. We also enjoyed being the team that did things the right way. We didn't try to buy titles like the 49ers of the early 90's that went after every free agent possible. We weren't the the cocaine Cowboys of the late 90's. We may not win it all, but we were the good guys, with the exception of our linebackers. We've always liked them
nasty on the field
.
But to flash forward to the present, Ben is the first Steeler ever that I have disliked. Don't get me wrong, I like him in regards to being a quarterback, but even that isn't cut and dry. In Roethlisberger's rookie year, I was thrilled he fell to us in the draft. I felt that
Bill Cowher
finally had what all of these other great coaches have had, a franchise quarterback. That was the only thing keeping Cowher from a title.
His rookie year was phenomenal. He was undefeated during the regular season after starting quarterback Tommy Maddox went down with an injury. Sadly, that seemed to beginning of the transformation from Big Ben to Ben "The Douche". After winning his first title and the Steelers 5th, he began a power struggle with coach Cowher behind the scenes. He was no longer satisfied with winning, but he wanted to win with himself as the star. Running the ball and playing great defense didn't showcase Ben enough in his eyes. He needed to be
the
reason we won. His ego began to run amok. Don't take my word for it. Pete Prisco of
CBSSports.com
reports that Roethlisberger isn't even well liked with in his own locker room:
He came into the league an arrogant rookie who didn't exactly endear himself to his teammates. Then he won two Super Bowls, which had some of his teammates wondering how he fits his helmet on his head.
For a brief time after the motorcycle crash, some say Roethlisberger actually seemed humbled. Reflection can do that to a man.
Then he won his second Super Bowl. Big Ben went to his head.
Team insiders say he became surly again. There are reports of him treating people rudely in public. He wasn't warm and fuzzy with his teammates, even if he did take his linemen to some wrestling night out, making it look like he cared.
True story: In 2008, while the Steelers were en route to another Super Bowl, I actually had some Steelers players saying the team would have been better off with Roethlisberger on the bench.
He's always given me the impression that he liked the spotlight a little, too much. Whenever he would talk about the team he would say the right things, but it never sounded genuine coming from his mouth. When he spoke he always came off as a person telling you what he feels is the right thing to say, but not necessarily that he believed it in the least. The best comparison I could make is to Kobe Bryant. Bryant would always say all the right things, but we all knew that he didn't truly mean any of it. That's how I felt about Ben. Ben began to believe that he was bigger than the team. On many teams that could easily be the case if they didn't have the tradition of the Steelers.
Terry Bradshaw even had to light Ben's ass up
on this last indiscretion.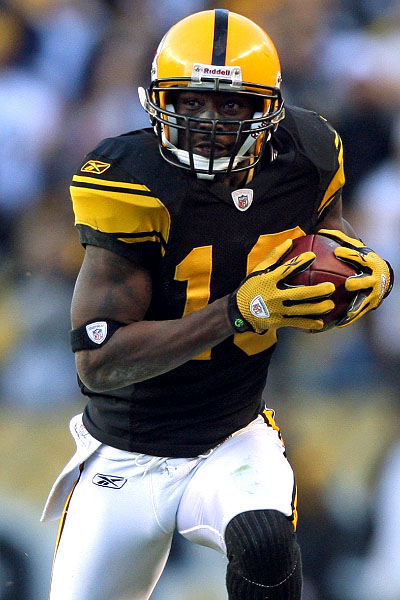 After giving away
Santonio Holmes
due to his troubled past and present, people have began to talk about the double standards of the Steelers as well as the NFL. While there is a double standard being displayed, it's not the obvious double standard of race. This is the double standard of a quarterback versus any other position in football. Wide Receivers are easily replaceable and Holmes, although a Super Bowl MVP, is a good player and not a great one. He's also at the end of his contract and had made it known that he didn't necessarily want to stay in Pittsburgh. Roethlisberger on the other hand is a top 3 and no lower than top 5 quarterback. You don't give away a great Q.B.,
unless you're the Eagles
.
Although he hasn't been arrested for either of the incidents he's been involved in, Ben will definitely be suspended by either the league or the team itself. I don't see anything less than a two game suspension, but I would go as high as four games.
There are rumors floating around the internet that the Rams are offering the Steelers this year's (number one overall) and next year's first round picks. If this were true, that deal would've been done before this long ass blog entry ever came across your google reader. I know that I would've damn sure pulled the trigger on that trade to be rid of this headache and fix both the offensive line and secondary.
More than likely Roethlisberger will be a Steeler for at least one more season . . . unless he decides to have another off season adventure. :-/
Thanks for reading this long and rambling blog,
8